4×4 Camper Van Rentals in Iceland
You asked for it, we listened and here we have it. New for 2017 is the very exclusive VW California Beach. A very spacious 4×4, automatic camper van, packed with bespoke equipment like curtains for all windows, chairs and tables, both inside and for outside use. It is the perfect vehicle for driving the Ring road or, since it is a 4×4, you can even travel on F-roads. It has everything you will need for a camper van trip around Iceland.
The VW California seats 5 people and has sleeping space for 4 adults. A family with 3 kids should easily fit comfortably in the van. The two front seats turns backwards so you can set up a cozy dinner inside the camper, giving everyone enough space to enjoy the meal in the comfort in your rolling vacation home.
The ingenuity with the VW team when they developed this camper van has no limits. All the curtains, chairs, the cooler, everything has its own, ingenious storing space, including your personal luggage, thereby limiting clutter and giving more space for the travelers. With the free WiFi, you can enjoy your favorite movies during the even or why not listen to some of your favorite music while on the road.
In a camper like this, the weather matters even less but we always highly recommend you keep yourself up to date with the weather forecast at all times.
The Top bed/roof has two functions. When not in use, it gives you much more headroom while spending time inside the van. When it's time to go to bed, you simple unclip the bottom of the bed and it becomes a double bed.
Whatever you want to see here in Iceland, if it's just to drive the Golden circle, visit our black sand beaches or be more adventurous and visit the highlands, this camper van is up to the challenge. Since we have had a lot of requests and questions, we already know this camper will be booked fast for the summers so have a think but book this one fast if you are interested in a spacious, 4×4, automatic for your Iceland vacation, this is the one for you!
Read more: Campsites open all year around in Iceland
VW California Beach is equipped with following: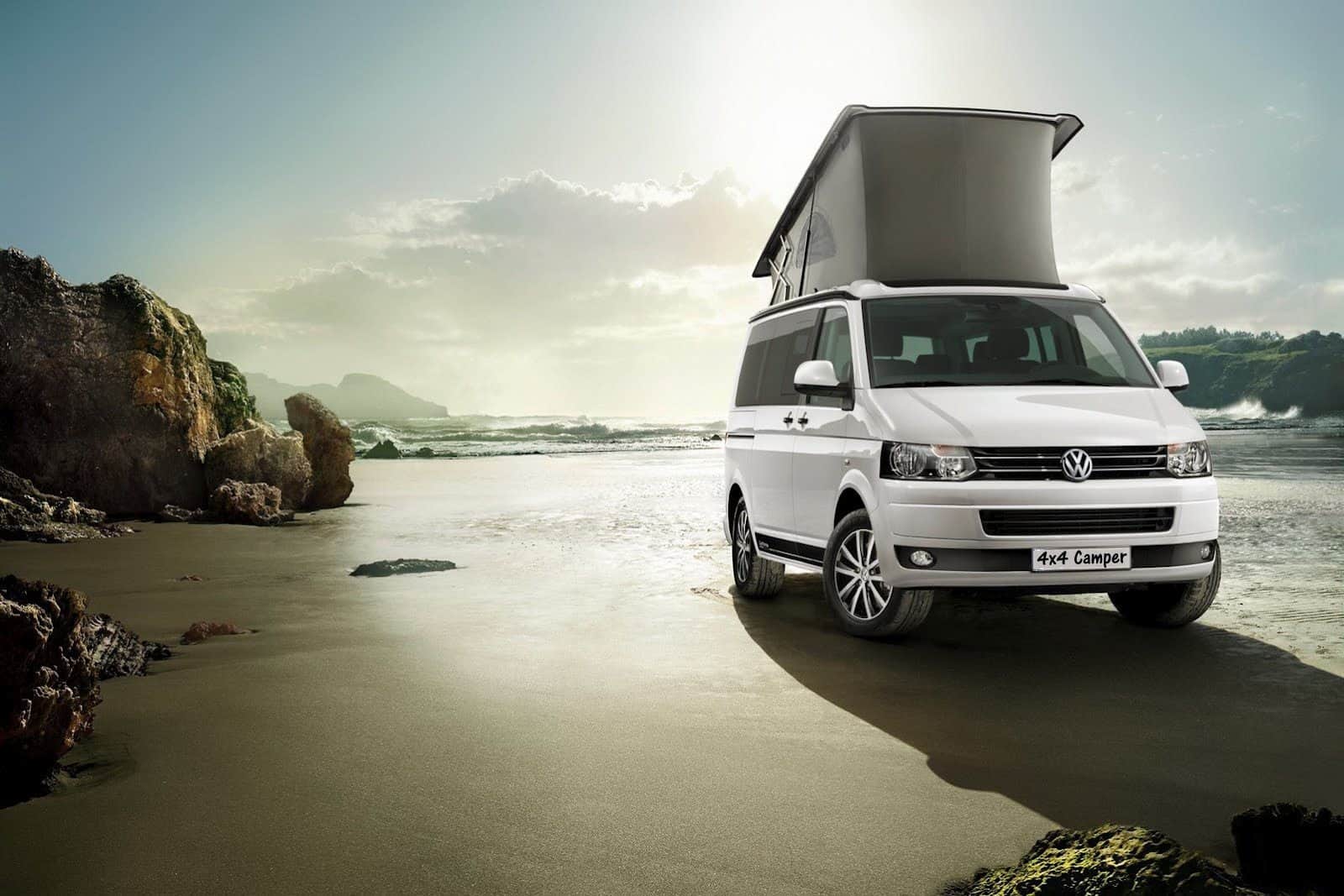 • Sleeping room for 4 persons and seating for 5 persons. Two
        double beds 200cm x 120cm
     • 4 x Sleeping bags, sheets and pillows.
     • Chairs & table.
     • Camping Gas & Griddle.
     • Cooler / Refrigerator
     • Pots, Pans, dishes and cutlery.
     • Free Wi-fi.
     • Radio/CD/MP3/USB.
     • Unlimited km/miles & CDW Insurance.
This equipment is included in the rental price at no extra charge.
Happy Camping!  #WohoCamper
Iceland Travel Guides
If you like what you see, please subscribe to our YouTube channel!